I had such a grand experience meeting Glenn Hughes, that it prompted me to create this "mini" site as a thank you...Sometimes in life, people you never "know" or "meet" touch your existence-and they never find out about it...I'm hoping this "Thank You/Tribute" will be seen by other fans of Glenn's, and by all his fans to come! (And Glenn as well...)
---
How It All Started...


I was introduced to Glenn's music by an old boyfriend in 1993, his "Hughes/Thrall" CD was the first gift that Jim ever gave me, and I played that disc day-in and day-out! The music was a great inspiration for me, as I was still singing at the time (who wouldn't want to sing like this man?), certain tracks made the "hair stand up" on the back of my neck...that's when I knew I had found an amazing artist/composer to spend my time with...
Glenn's writing is so intense, and apparently by all the lyrics I've read through--he has the good grace to share his life's experiences with all of us. He gives you the opportunity to see where he's been-and where he is headed next...in my opinion, that's not an easy task to accomplish for any artist! But he does it with grace...ease...and class like I have never seen in a "live" situation ever before.
---
A Most Amazing Experience...


I have so many "favorites"...it's hard to tell you just which album I have worn out the most! While at Birch Hill in New Jersey the other night, I wrote down the name of my very-very favorite GH song: "Does It Mean That Much To You?" from "FEEL", on this napkin...I hadn't heard it yet--and was hoping that he might play it (fingers crossed)...So I'm holding this napkin up so he could see it, turns out he didn't have his specs on, so he tells me to go around to the side of the stage, so he could read it! He quickly explained that they hadn't prepared for it--and that he was very sorry...and at the end of the song he was in the middle of, he made a point of looking me square in the eye and he said: "Does It Mean That Much To Me? Yes It Does!" That was a moment that any "fan" would wish to have...when I had the chance to meet him after the show--he made a point of saying that no one had ever requested that song before, and that he appreciated my asking for it because it was one of his very favorite compositions...Everyone should have the good fortune to meet GH, and I will never forget that moment...Glenn--Thank You for all your candor and kindness!!
---
A New Favorite!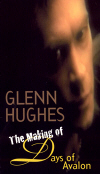 While at the show, I picked up this beautiful video, "Days Of Avalon"-from Return Of Crystal Karma...well done Glenn! Everyone who loves Glenn's music, needs to add this to their collection!! If this tune doesn't win a Grammy...to watch the preparation for this production was great, it's brilliant!!
---
A Personal Note:

...Hopefully my rambling hasn't put anyone to sleep...if you sing as I do, or if you play any instruments--I'm sure you understand the depth of feeling you find when you encounter any piece of music that touches your soul in some way...I haven't stopped singing since I saw Glenn's performance...I believe I fell in love with with "my music" all over again, and sadly enough it's been a long time since I felt that way about it...so I hope these musings will touch someone out there, I hope everyone finds their "music" no matter what prompts them to do so!
And to Mr. Glenn Hughes:
Your music will always have great meaning for me-as I'm sure it does for so many people! With each new project outdoing the last...hopefully you'll continue to create for a very long time to come!!
Regards~Kim